Posts for: January, 2019
By Randolph Family Dentistry
January 14, 2019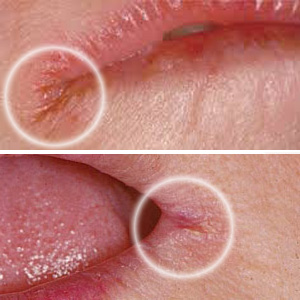 We've all had physical ailments that were more irritating than serious. The problem of skin cracking at the corners of the mouth fits into that category.
Both dentists and dermatologists encounter this condition often and have a name for it: perleche, derived from the French word lecher, meaning "to lick." The term arises from patients' tendency to excessively lick the broken skin to soothe the itching or burning.
Perleche most often arises from certain mouth conditions, although systemic problems like anemia or diabetes may also cause it. Children or younger adults, especially those with orthodontic braces or a tendency to drool as they sleep, often develop perleche; older adults with wrinkling around the mouth are also susceptible. Mouth dryness caused by reduced saliva flow may also irritate the skin and cause discomfort.
As the skin becomes irritated, the person may begin to lick the corners of the mouth to soothe them. This sets up conditions for an infection, most often caused by yeast known as candida albicans. The infection may become more acute and begin to affect the entire inside of the mouth or throat.
If you've developed perleche, our primary treatment goal is to reduce any infection with the aid of oral or topical antifungal drugs. One drug, Nystatin, is often taken as a lozenge that dissolves in the mouth and works its way from there through the rest of the body. You can also apply antifungal ointments several times a day to the corners of the mouth, often in combination with steroid ointments that reduce redness and swelling. You can also apply antifungal zinc oxide paste to the cracked skin, which also serves as a barrier between the skin and outer contaminants.
To reduce the chance of future outbreaks, we may recommend you rinse with Chlorhexidine, as well as replace missing teeth or refit loose dentures — these too are contributing factors to erupting yeast infections. You might also need to undergo dermatologic treatment for wrinkles if they've proven to be a factor in developing perleche.
Although not a major problem, perleche can be exceedingly uncomfortable and embarrassing. Thanks to a number of treatment options, you don't have to put up with that discomfort for long.
If you would like more information on perleche (angular cheilitis), please contact us or schedule an appointment for a consultation. You can also learn more about this topic by reading the Dear Doctor magazine article "Cracked Corners of the Mouth."
By Randolph Family Dentistry
January 04, 2019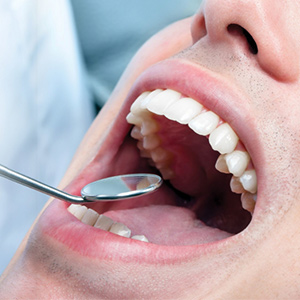 Dental caries (tooth decay) is a leading cause of tooth loss. But with prompt diagnosis and care we can often stop it before it causes too much damage.
The traditional treatment approach is simple: remove all diseased tooth structure and then restore the tooth with a filling. But this otherwise effective treatment has one drawback: you may lose significant healthy structure to accommodate a suitable filling or to make vulnerable areas easier to clean from bacterial plaque.
That's why a new treatment approach called minimally invasive dentistry (MID) is becoming more common. The goal of MID is to remove as little of a tooth's natural enamel and dentin as possible. This leaves the treated tooth stronger and healthier, and could reduce long-term dental costs too.
Here's how MID could change your future dental care.
Better risk assessment. MID includes a treatment protocol called caries management by risk assessment (CAMBRA). With CAMBRA, we evaluate your individual tooth decay risk, including oral bacteria levels, the quality of saliva flow to neutralize mouth acid, and sugar consumption. We then use our findings to customize a treatment plan that targets your areas of highest risk.
New detection methods. The real key to fighting tooth decay is to find it before it can destroy tooth structure with the help of new diagnostic technology. Besides advances in x-ray imaging that provide better views with less radiation exposure, we're also using powerful dental microscopes, lasers and infrared photography to show us more about your teeth than we can see with the naked eye.
"Less is More" treatments. In contrast to the dental drill, many dentists are now using air abrasion rather than a dental drill to remove decayed tooth material. Air abrasion emits tiny material particles within a pressurized air stream that leaves more healthy tooth structure intact than with drilling. We're also using new filling materials like composite resin that not only resemble natural tooth color, but require less structural removal than other types of fillings.
Using MID, we can treat tooth decay while preserving more of your natural teeth. This promises better long-term outcomes for future dental health.
If you would like more information on new treatments for tooth decay, please contact us or schedule an appointment for a consultation. You can also learn more about this topic by reading the Dear Doctor magazine article "Minimally Invasive Dentistry: When Less Care is More."