All professionals at Randolph Family Dentistry maintain the highest levels of accreditation and pursue ongoing education to stay abreast of the latest trends in the medical field. Read on to learn more about our staff's experience and training.
Rita Masouh
General Manager
Rita has been with Norton Family Dental since opening in 2006. Her support of the practice and understanding of the office systems is invaluable. Because of her experience and extensive knowledge of front desk protocol, she can solve even the most difficult problems when they arise.
Rita greatly enjoys spending time with family and friends, as well as traveling to new destinations around the globe.
Leen Salloum
Office Manager
Leen joined Randolph Family Dentistry in June 2022. She is a graduate of Curry College Class of 2022 with a major in Public Health and Wellness. She is passionate about healthcare administration and is an ambitious team player. Leen takes the initiative to provide quality service and attention to our patients throughout their dental care journey. Her diverse background made her an excellent member of our team, and a successful office manager.
Leen enjoys spending time with family and friends. She loves to travel, especially to her home country Syria.
Jamie Bacon
Billing Specialist
Jamie has worked with Dr. Salloum since 2015 as our billing and insurance specialist. If there is an insurance problem, she is always there to solve it. She is well versed in insurance billing compliance and best practices. Jamie takes great pride in her work and her ability to resolve billing issues quickly.
She is a proud mother to her son and greatly enjoys taking him on grand adventures.
---
Kelly Young
RDH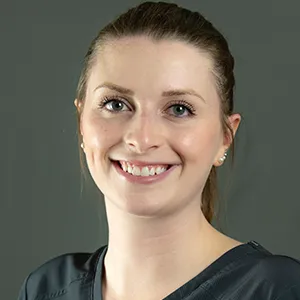 Kelly graduated from Forsyth School of Dental Hygiene in 2018 with her Bachelor's degree in Dental Hygiene. She is currently back at MCPHS University working to get her Master's of Health Science in their graduate program. When Kelly joined our office, we quickly realized she would fit right in. Her kind smile and contagious laugh helps our patients feel at ease when they come for their hygiene visits.
---
Melissa Agyemang, RDH
Dental Hygienist
Melissa is a graduate of Massachusetts College of Pharmacy and Health Sciences, Forsyth School of Dental Hygiene Class of 2010. She has been working with Dr. Salloum since 2018. Her calm demeanor and exceptional clinical skill make her a perfect fit for our team.
When not in the office, Melissa enjoys photography - especially landscape and portrait - as well as traveling with her husband to California and Europe.
---
---
---
Megan Jordan, RDA
Dental Assistant
Megan found her place in the dental field after completing the Dental Assisting program at Lincoln Technical Institute. She has worked in the field for many years and began at Randolph Family Dentistry in 2020. Megan is cross-trained as both a Dental Assistant and Receptionist; she loves to connect with patients. Her bubbly personality helps patients feel at ease at our practice.
Megan spends her downtime antiquing or bonding with her family. She is always ready for winter weather and can be found outside as soon as the first snowflake falls.
---
Wendy Gavin, CDA, EFDA
Dental Assistant, Infection Control Compliance Officer
Wendy has been with Dr. Salloum since 2001, after graduating from Southeastern Technical Institute that same year. She has excellent rapport with patients and assists our general dentists and in-office specialists so patients feel more comfortable during procedures with a familiar face. As our Infection Control Compliance Officer, Wendy ensures our practice is meeting and exceeding infection control best practices.
Even after a long day of work, Wendy loves to spend time with her family – including her 9 grandchildren. When not enjoying her time outdoors, she can be found baking scrumptious cupcakes for everyone.